Hotels and catering
Insel-Hotel & Holiday Homes Dobbertin
Hans Jürgen Müller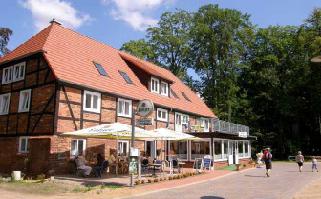 An der Mühle 2
19399 Dobbertin
Tel.: (038736) 80243
www.insel-hotel-dobbertin.de
For those who love nature and are looking for peace and quiet,a perfect place hikers and active holidaymakers, an oasis of tranquility.
Prices:
Double room from 65,00€
Appartements from 89,00€
Holiday home from 75,00€
Total number of beds:40 Betten
Facilities of Holiday homes:
1 Lounge + 1 Double bedroom
Kitchen + Bathroom
TV available
Lawn for sunbathing, barbecue
Sauna
Restaurant
located directly at lake
Canoe and bicycle hire near by
Fahrgastschifffahrt
Pets on request
Hotel & Tavern 'Zwei Linden'
Heike Kessler
Platz der Arbeit 1
19399 Dobbertin

(038736) 42472
(038736) 42655
E-Mail:
www.zwei-linden.com
Our folksy tavern was already in the past the guest-house of the cloister Dobbertin and holds a long tradition of overnight accommodation.
Today 12 double bedrooms and two single bedrooms invite holidaymakers and business men to stay, comfortably rustical and with all comforts of modern times (shower, toilet, TV, radio, telephone, Wifi).
Our delicious german kitchen is famous for local dishes, such as delicate dishes of fish or wild game .
Up to 40 People can celebrate, gather for workshops or training sessions in our fireplace room.
Bigger events or celebrations with up to 150 people will be happily arranged in an adequate setting.
Hot days invite our guest to savour from cool drinks of any kind sitting outsite in our pub garden. .......and all this in the midst of a region, wich is also looking for the likes of you in Mecklenburg-Western Pomerania.
Seasonal opening hours
High season: 1st May to 15thSeptember
Low season: 16th September to 30st April
Double room
High season from 55,- EUR
Low season from 50,- EUR
Single room
High season from 43,- EUR
Low season from 40,- EUR
Our addional Service for you:
Half board 13,- EUR
Extra bed (incl. breakfast)
free up to 6 years of age
up to age 14, 10,- EUR
from age 15, 15,- EUR
Cot without charge
dogs (on request) 3,- EUR
Sauna (on request) 6,- EUR for 1,5h
Sauna free for overnight guests
Fischerklause
Hans-Ulrich Brümmer
Aurea Arcadia
Heath and Community Centre Augzin
Lange Straße 27, 19399 Techentin OT Augzin
Tel: 038736-849945
Accommodation and Catering service
im Forsthof Mestlin
Forsthof 4
19374 Mestlin